Last year I was lucky enough to visit one of my favorite travel destinations, Bali! Unfortunately this year the travel plans didn't go as expected and to reduce the risk of exposing our self to Covid-19, we preferred to enjoy local tourism in Cyprus. Since these days were the time that we visited Bali I thought it would be a good idea to share with you 12 things that you can do in Bali once traveling is safer!  
1. Visit the local markets
The island is full of markets but my favorite one is Love Anchor in Canggu. This is a place where you can find locally crafted items such as coconut bowls, multiple household items, clothing, jewelry, and any traditionally made item you can imagine. Canggu is known as the new hot spot with multiple brunch cool places that you can combine along with a market shopping spree.  Ubud Art Market is the most famous in Ubud's' center but this is more of a typically crowded spot so be prepared for a lot, I mean a lot of people.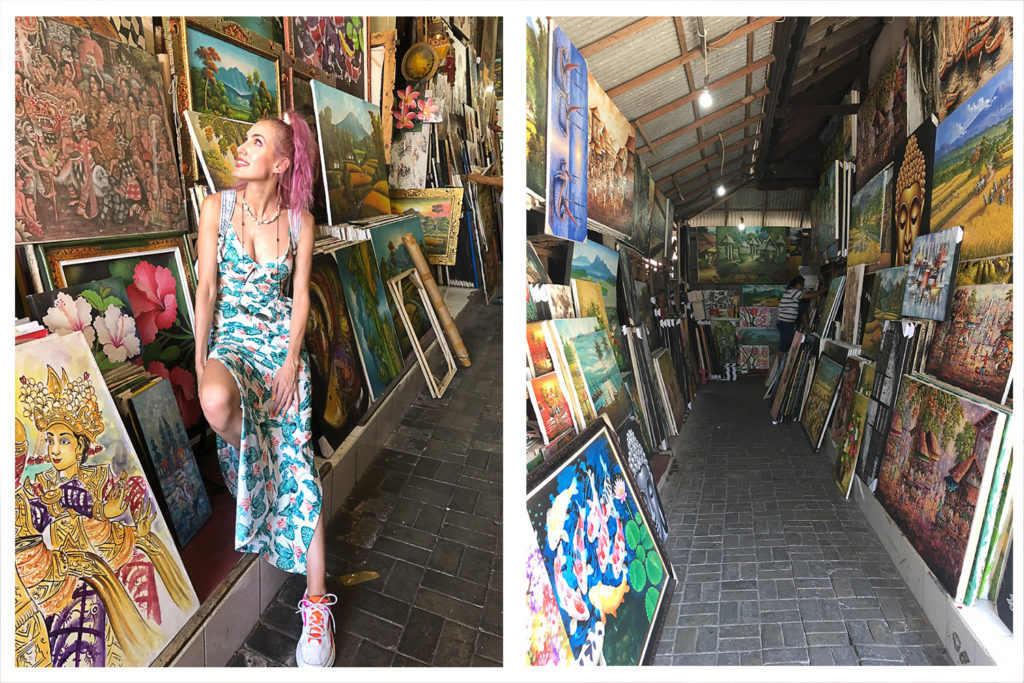 Sukawati Art Market is my second favorite market. Located in the Southern part of Bali, this is mainly a painting market where you can find a large variety of artwork. Due to its distance from the center, it might be a good idea to combine your visit with other activities nearby such as the Tegenungan Waterfall or the beach.
In general, it would be a good idea to research beforehand all the markets you want to visit and plan your days accordingly. Oh..and something important…DO not hesitate to bargain! This is considered to be good luck so go with the flow and bargain your heart out!
2. Visit the local traditional workshops
While traveling from location to location you will find multiple traditional crafting workshops! It's very interesting to see the craftsmanship that goes into every item that is made. The locals are very friendly so if you are interested in seeing or buying they are more than welcome to talk to you. It would also help if you have a local in your company to translate. My favorite spot was this door carving shop somewhere outside Ubud.  🙂
3. Stop for food…multiple times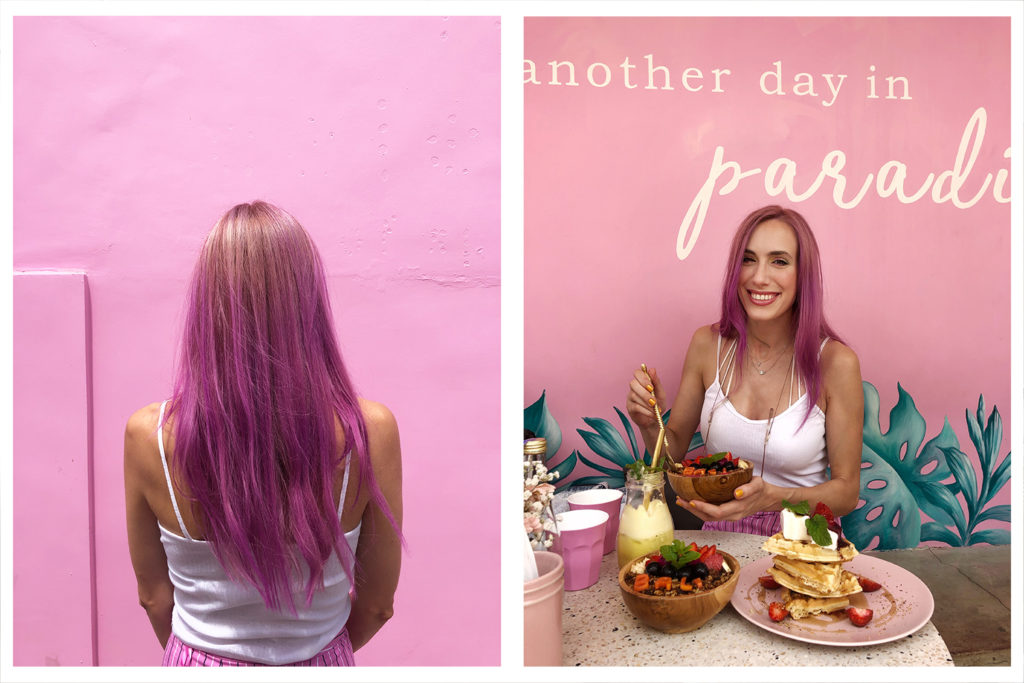 I mean…..food in Bali is a form of art where each place tries to be more exciting than the rest with fancier designs and eye-catching plates! You can find vegan, gluten-free, gourmet, and any type of hype cuisine you can imagine. Before visiting the country I took my time in saving all the must-visit food spots 😛 In Seminyak I may say that KYND Community stole my heart with the interior design as well as its smoothie bowls! I was even matching the decor with my pink hair by Rimani Bella!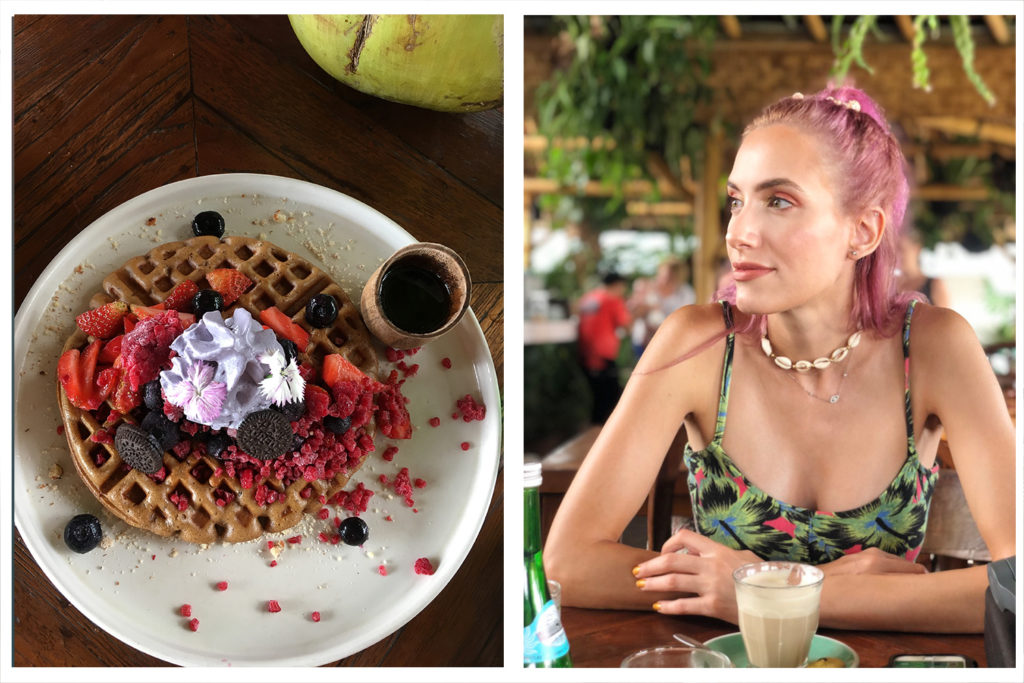 Another must-visit brunch spot is the Shelter Cafe in Seminyak. This is a roof cafe with multiple greenery hanging from the ceiling and walls. It is a very nice option.  Bear in mind that the water,  including ice cubes,  and any food washed by  Balinese water can give you the case of  Bali belly…..soo use only water out of a ceiled bottle for washing your teeth, drinking and avoid ice cubes, washed salads and anything that might come in contact with the local running water…trust me the whole Bali belly situation is too unpleasant.
Other fun spots to eat or enjoy a coffee in Seminyak is the Coffee Cartel and the colorful Sea Circus. There are a lot of options scattered around the area so you can choose as you go. Usually, the food is tasty and very Instagram friendly.
4. Walk the nature trails
Bali is full of natural trails but my favorite one is the Ubud Campuhan Ridge hiking trail. Make sure to get there early in the morning or during the sunset. Be very conscious of your time since the sunset during August is considered to be early…around 6 in the afternoon.
5. Enjoy a relaxing day at the spa or yoga 
It would be a shame after all the exploring not to have a body treatment dedicated day! You can start your day by following along the multiple Yoga classes the hotels usually offer during the day and follow this with a relaxing massage and an aromatherapy bath full of local flower petals. The best option after that is a nap or a relaxing day at the hotels' pool area. If your hotel doesn't offer these activities you can find them all over Bali, you can choose from the local shops or book a visit to a hotel of your choice. I may say the prices vary according to the location and the hour of the treatment but it is a definite must. We had the Yoga as well as the aromatic massages at The Udaya Resorts & Spa in Ubud.
6.Rafting and monkey forest
If you are looking for some adventure you can visit the Ubud Monkey Forest ….but be prepared for those monkeys! These are some way friendly stealing monkeys attracted by anything shiny, colorful, and anything hanging out of your clothes, bags, etc. You can even see some monkeys running outside of the park. There was an incident with a Greek girl who got attacked by a monkey gang trying to steal her colorful bag, that was a funny situation the girl shooting in greek 'Oh my God' and us hearing greek screams across the Bali forest.
Rafting is also an excellent way to spend your day. Don't expect anything too wild regarding the river's speed during August but the scenery is out of this world. It reminded me of Jurassic Park expecting a dinosaur to appear through the dense tropical forest at any moment. You can find multiple companies that you can book your place in advance from the city center cheaper than booking it online. 
7. Waterfalls and ricefields
Bali is full of waterfalls and ricefields. These are two of the characteristics of this country. There is a large variety of waterfalls you can choose from scattered around Bali but for me, it was essential to choose which once I found more interesting to avoid losing a day on long car rides. As I already mention the day is very short. For this reason, picked Tukad Cepung Waterfall. Located in Ubud is fairly close to the center and its a waterfall in a cave-like environment…what is cooler than that!? Along the way, you can find some smaller waterfalls. It would be a good idea to wear water slippers to make the walking journey more carefree without worrying about accidentally sliding down and breaking your neck. 😛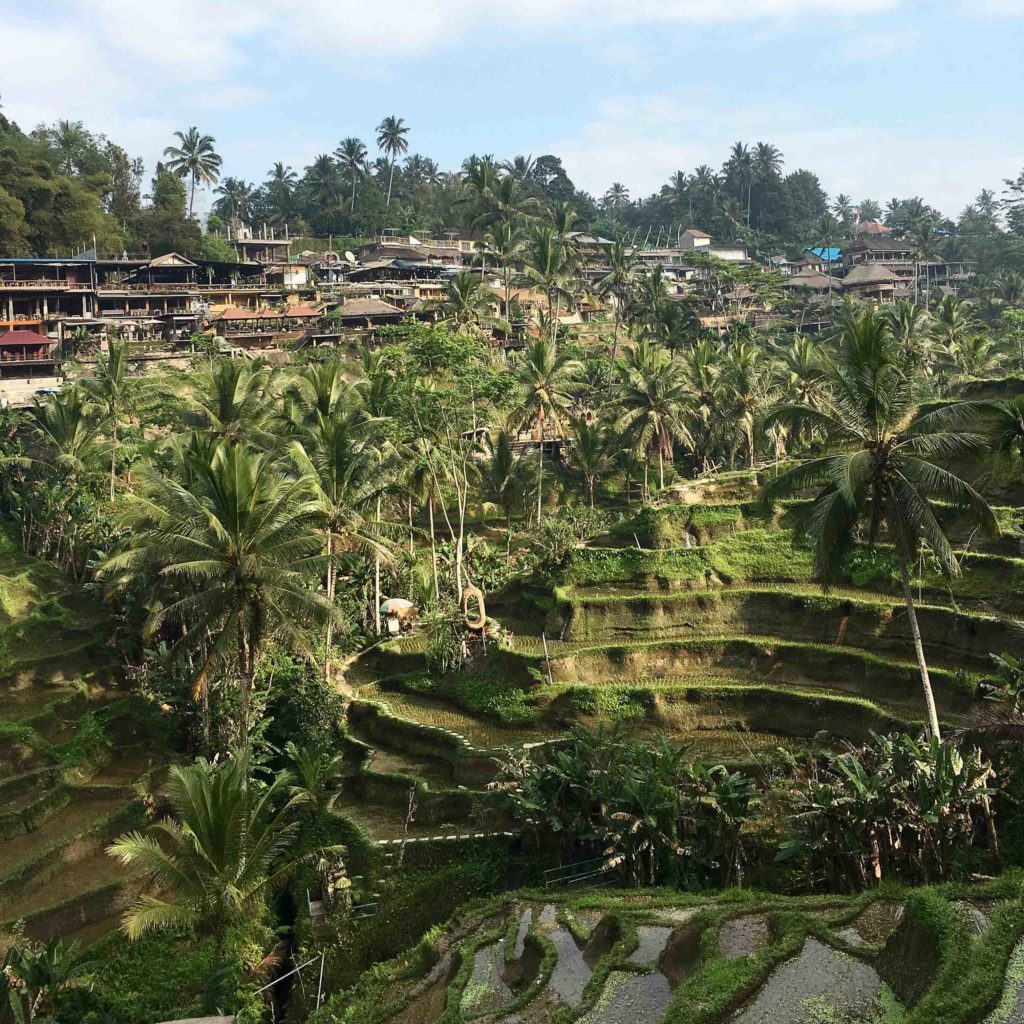 Tegallalang Rice Terrace is a very special scenery especially if they are filled with water on a sunny day. The water reflection of the rice ponds, the multiple levels as well as as the whole walking experience within this place is mesmerizing. Make sure to arrive early in the morning if you want to grab those magical shots without any crowds.
8. Night and day life in Semminyaks beach bars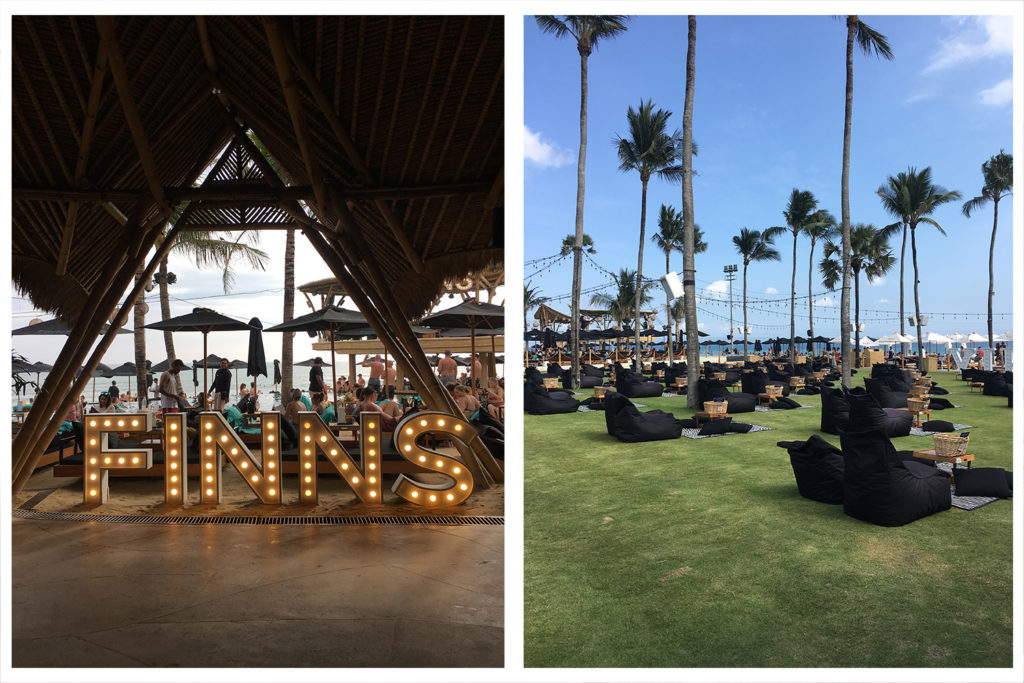 Seminyak is very famous for its vibrant life you can find during the day and night. Before visiting Bali I made a brief search regarding our accommodation and the nearby places worth a visit.  Finns Beach Club was the best choice where with  60 euro you could pre-book online a sunbathing bed at the VIP pool facing the beachfront and you could spend that money on food for the whole day. We were eating and drinking for the whole time being there and we still had money to spare by the end of the night.  

While seated at the sunbed you can face the beachfront where you can see multiple people surfing as well as enjoy the gorgeous colors of the sky during the sunset.  Unfortunately during our stay in Bali, we did not have the luck to enjoy a clear sky sunset. Nevertheless the pink and purple sky hues were incredible.  As you can see I didn't mention any sea visits because the Bali sea is more for surfing with large waves. Therefore we visited a few beaches but they didn't excite me for swimming rather for their tropical scenery.
Another cool spot is Potato Head Beach Club. You don't need to pre-book for this place, you just walk in this interesting circular structure and the 'mountain' of colorful flip flops.  On the other side is a green yard full of sitting options, on the grass, near the pool, at the cover area as well as the beachfront. A must-visit for food and good music. 
Motel Mexicola is an iconic neon bar full of character.  This is a place to let loose have a drink and dance your heart out. A very nice spot to visit if you want to have a party night and make some new friends.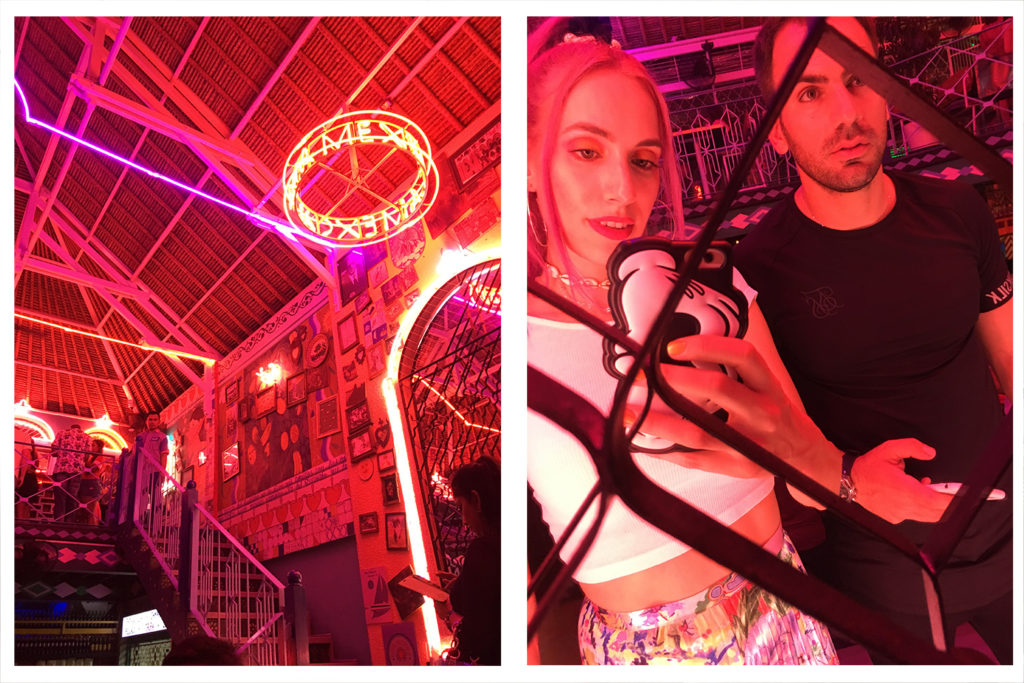 9.

 Watch a traditional da

nce
There is no way to visit Ubud and not hear the characteristic sound of a Balinese dance show. You can find multiple shows in the center but one of the most famous is at Ubud Water Palace. The main characteristic of this location is that the whole stage and sitting areas are surrounded by water. The show has live music with a traditional band and dancers all dressed up in traditional clothing. The whole show is very interesting to watch and at some point be a part of among the dancers. You can find tickets outside of the palace.
10. Explore multiple temples
I think is well known that a large variety of temples is spread throughout the whole island. The selected two that we visited where the Tirta Gangga Water Palace and the Pura Besakih Temple. The water palace was very beautiful with a lot of gardens. The fact that you could walk in the pond and feed a large number of koi fishes was a plus for me.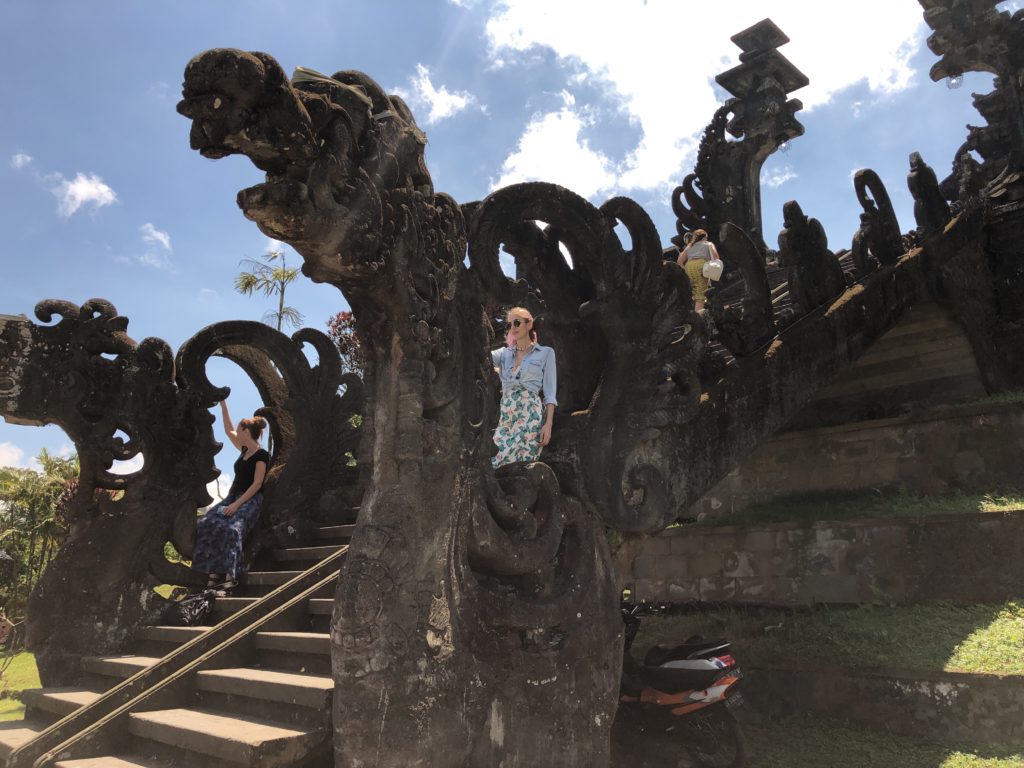 11. Enjoy the local architecture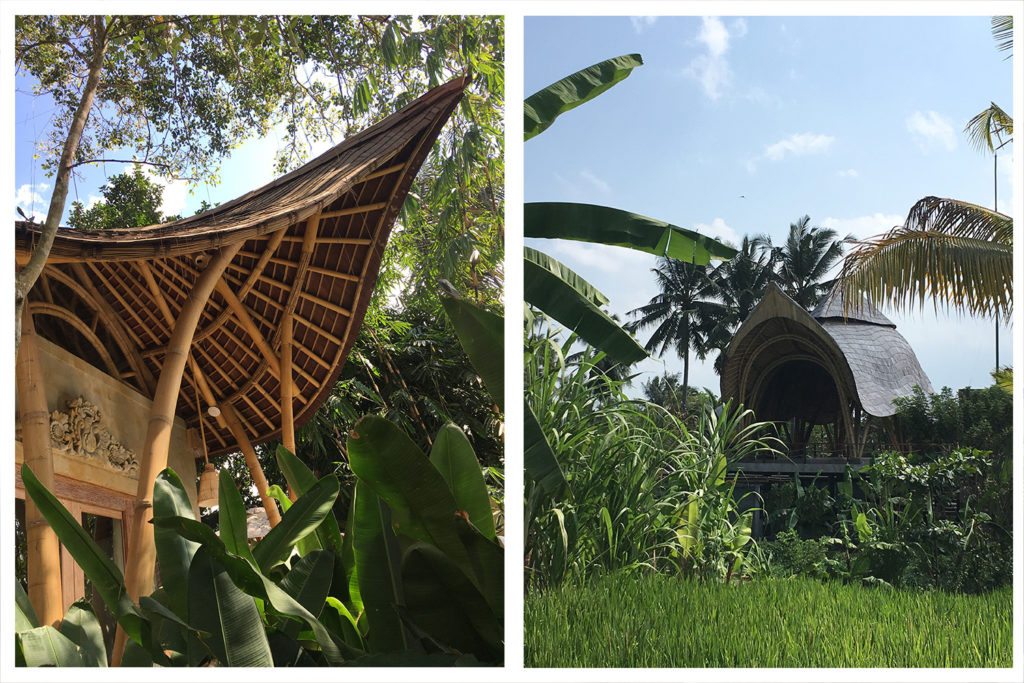 It's important to walk during your stay in Bali and explore the local architecture something you might miss if you are driving. Being from Europe I never saw this kind of architecture from close so this was very interesting to me and especially when I could talk with the local builders to explain the technique of bending the bamboo, priceless.
12. Explore accommodations
It's essential before you visit a country to decide where exactly you are more interested to spend your time and for what reason you are visiting each country. From my research, I decided to split our 10 days between Bali to 3 days in Seminyak and 7 days in Ubud. I thought for me it would be more interesting to explore the Bali center with the rice field and nature rather than spent more days at Seminyak or any other location in Bali where is for the younger crowd with all the cool brunch and club spots.  To keep within budget, the Seminyak accommodation was the most economical option of staying at a very decent hotel but without the luxury of a private pool, etc. Petitenget 501 is in Seminyak center near to all the places I mentioned above. It was the best choice since we nearly spent any time in the hotel. On our 4th day, we traveled to Ubud and stayed at Bisma Eight.  This was a contemporary build hotel with a twist of traditional architecture. And that's where the Bali belly hit us like a tone of bricks.
Another unfortunate event was that I lost the card that I used to book all the hotels while staying in the first one. This might be a serious issue in some places since they have the right not to accept you if you don't have the physical card with you. Thank goodness after a long 2-hour chat with the hotel manager we managed to convince them to accept us.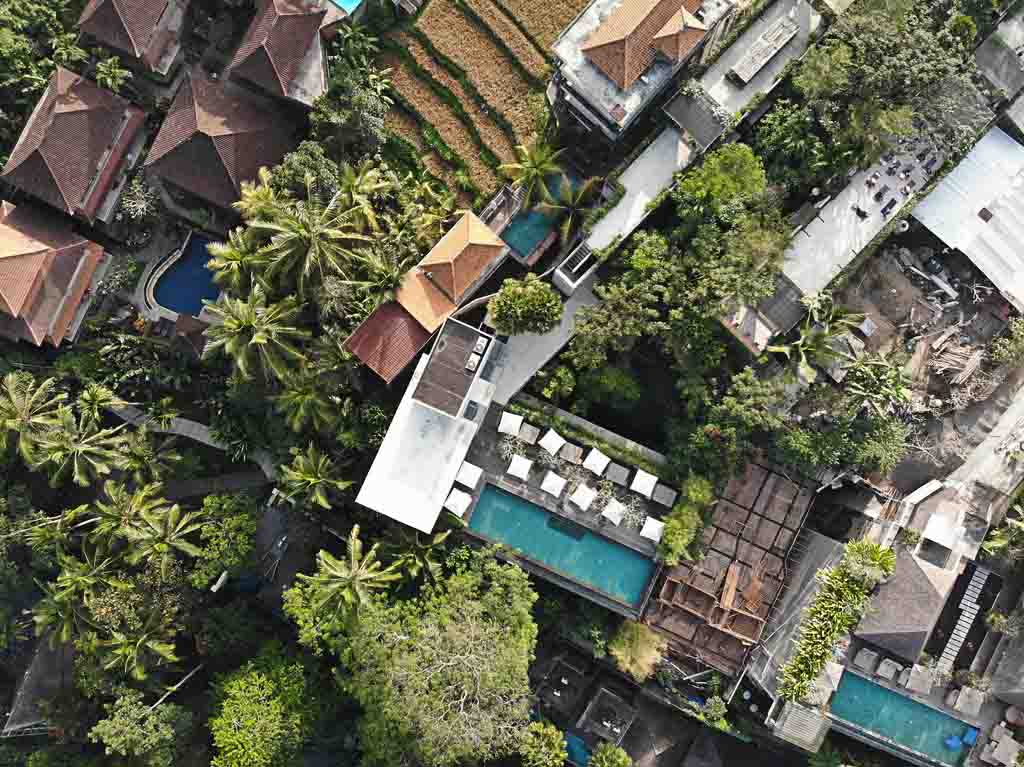 The most iconic hotel of all was the third one the Udaya Resorts & Spa in Ubud. Located more far out from the city center is an oasis of beautiful gardens and pool villas. This is a gorgeous hotel if you want to have a chill day at the hotel as well as spent some time exploring nature.
Another cool accommodation was the 4th and the last one near to the Ubud center the Aria Villas.  This is a walking distance from the Ubud's market and any restaurants in the area and its a good choice if you want to be in the center but at the same time enjoy the luxuries of a private villa. I couldn't recommend it enough.
As you can see in 10 days we changed four hotels. It might be a better idea not to change hotels so often in order not to split your days for check-ins but because I wanted to have the experience in multiple types of hotels we went with it. Of course, there are a lot of options to choose from regarding location as well as price.
So there you have it 12 things to do in Bali! I may say this was one of the trips I enjoy the most. It was something different from all the countries I have been before and it did not remind me of any other destinations so it was more exciting for me. If you have any questions or comments please live them under the post and I will be more than happy to answer.