© Studio Sophia
Design a fireplace and a rotating TV unit? Challenge accepted!
This composition is one of the latest projects designed by Studio Sophia for the architectural office CCAI. The client brief was first the design of division furniture separating the living room from the dining space and second the combination of a fireplace and a tv unit. Last but not least the tv was essential to be able to be watched in either area according to need. The last request was a challenging and interesting at the same time!
Even though the fireplace and the tv unit were at the same line I wanted to give two separate focal points, hens the fireplace volume is covered by a green marble stone used also in other areas of the house. The tv volume is constructed by MDF covered by white metallic sheets creating the thin profile at the front of the structure. On the floor, there is electrical access powering all the relevant appliances such as the tv, soundbar, woofer, etc. To make the furniture rotate a metallic tube is positioned in the middle allowing for all the cables to pass through and channel them accordingly. Access is allowed at the back of the whole furniture for maintenance. The back is also reinforced to hold up a painting creating an interesting visual point once is rotated in the living room.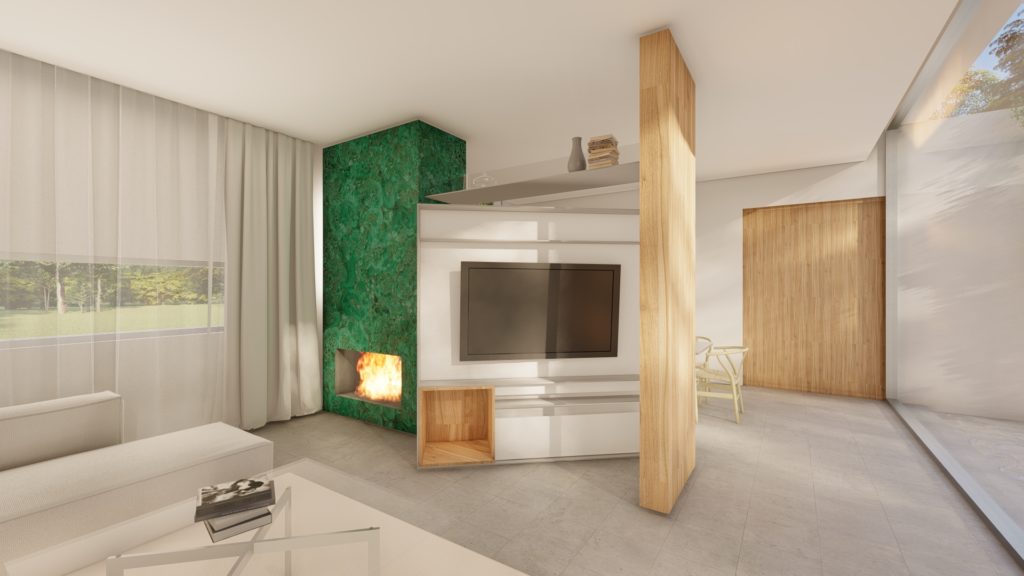 At the top of the tv unit, there is a stable metallic sheet spaning from the side wooden volume to the fireplace. The shelf is divided in the middle by a glass which also has led light strip under it. The fireplace volume is not touching the wall for the composition to 'breath' and also has a vertical led strip at the side facing the wall and warming up the area.  The wooden structure has all the switches needed for the room.
If you are interested in more in detail construction drawings you can see them on the portfolio.